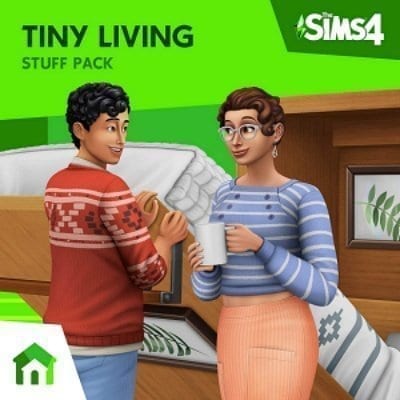 The life-simulation, the Sims, is still going strong and its fourth installment is continuing to bring plenty of success to the series and to Maxis and Electronic Arts. Maybe it's because the Sims allows us to enjoy a virtual life where we own a home and have very little problems outside of accidentally burning our homes down from making a salad. It's a great change of pace from shooting games, adventure games, and other games that requires you to kill other players or computer-controlled enemies. Sometimes people just want the only worry they have in a video game to be how they're decorating their front yard. The Sims 4 has plenty of expansions, stuff packs, and extras that help bring plenty of revenues in for EA and Maxis. The newest and hottest stuff pack to come out for the Sims 4 is Tiny Living. Let's take a look at the first Sims 4 stuff pack that kicked off an unprecedented decade.
Everyone loves living in a tiny home. People watch entire television shows dedicated to tiny homes. The Sims 4 wanted to capitalize on the wave of creativity spawned from people who thought they had great ideas after watching these shows. The first thing anyone looks at when they're trying any new stuff pack or expansion for the Sims 4 is the create-a-sims menu. They ask themselves if there are any new hairstyles, any new outfits, etc. Of course, for both males and females, the outfits in the create-a-sims was exactly the type of outfits you would assume someone who wanted to live in a tiny home would wear. However, there's not much to choose from as the outfits are mostly catered towards colder weather looks. Fortunately, those who wanted hairstyles that span across different age groups will be happy knowing there are some newer hairstyles for children. They decided it was time to give a few more hairstyle choices for the tinier members of the family. You know, because it's a tiny house?
For a stuff pack focused on building tiny homes, there is a surprising lack of items in build mode, but players already have everything they needed to build a tiny home with build items. There were already tiny windows and everything, so all we really needed were buy items. At least they gave us a door. There are plenty of items in buy mode that matches anyone's aesthetics for a tiny home. They finally gave us Murphy beds after a number of expansions and stuff packs, so that's something to be excited about. Of course, with a tiny home, you're going to get a tiny lot to work with if you want to. The fun part about tiny living is actually developing a tiny home. There are limitations when you're trying to build over 100 squares, but who really bought the Tiny Living stuff pack expecting to build a mansion?
The challenge is living in a tiny home when your family has a lot of members in the household. It can get difficult to maneuver around or even share one bathroom. Larger real-life families should know the struggle of trying to share one bathroom with six other family members. However, it's great to be able to reduce the cost of living in a larger home when you live in a smaller home. You're not dumping a lot of your hard-earned money right into bills. Depending on the attitudes of your Sims, it will be easier to build relationships because, well, your Sims are so cramped up together that they have no choice.
The Sims 4 started the decade with a fun stuff pack for those who enjoy Tiny Living.
Check out this title on Amazon
The Sims 4: Tiny Living Stuff – Xbox One [Digital Code]
Related Titles
The Sims 4 – Moschino Stuff Pack – [PC Online Game Code]
The Sims 4 – Island Living [Online Game Code]
Price Disclaimer
Prices and availability are subjected to change without notice. Prices are accurate at the time of posting. Readers may refresh the product links or thumbnails to obtain updated prices on Amazon.
Recommended Links
More Best Selling Video Games on Amazon