Buy Kofax Power PDF Advanced Version 4 For Windows – Electronic Download (ESD)
Buy Kofax Power PDF Advanced
Kofax Power PDF is the #1 global alternative to Adobe® Acrobat®.  You can save significantly with a Power PDF license for yourself or your team.  For Power PDF you will be enjoying a Single Perpetual License, not subscription-based one.
Perfect Corporate Fit – Easy to Learn, Standardize on One Solution
Power PDF provides powerful PDF management that's built for business users. Learning is fast since it works like Office desktop products. Since Power PDF meets simple to complex needs and provides strong security, IT teams can standardize on a single tool.
Key Benefits
Create and assemble PDFs easily from any application
Accurately convert PDFs into editable Microsoft Office documents
Sign and send PDFs for signature using Kofax SignDoc
Create PDFs that are compatible with the ISO PDF 2.0 file format
Enhance document security with powerful encryption, digital signatures, and rights management
Work with PDFs on touch-enabled portable Windows 10 devices
Enjoy the same navigation experiences in Microsoft Office
Work with any PDF forms
Streamline document reviews and collaboration
Connect directly with document management systems and cloud file-sharing sites
Buy Kofax Power PDF Advanced Version 4
Advantages
Maximize productivity and adoption with the best navigation experience
Power PDF Advanced offers a modern, intuitive user interface that is modeled after the acclaimed Microsoft Office ribbon interface. The Quick Access Toolbar lets you create shortcuts to frequently used features and capabilities.
Trust the most accurate document conversion solution
Power PDF Advanced uses Kofax OCR, the industry's most sophisticated technology. It precisely recognizes scanned text and faithfully reproduces complex layouts with columns, tables, and graphics. It includes an OCR proofreader tool to help you see and correct text results, so the PDF documents are perfectly searchable.
New – sign and send PDFs for signature with Kofax SignDoc®
Whether you're approving a purchase, closing a sale, or signing an agreement, it's easy with Power PDF. You can automate the signing process with Kofax SignDoc and other e-signature tools.
Collaborate in real-time —when it has to be done right the first time
Documents can be created and edited, together in Power PDF and in real-time with users on the same LAN, without having
to send them back and forth among various parties, leading to more efficient work.
Combine all open documents in just one click
Combine all open documents into a single PDF – perfect for saving work and streamlining tasks. Just click the "Combine All" option on the Home toolbar and bookmarks will be created from the file names of the original documents.
Benefits of Power PDF Advanced
Create and assemble PDFs easily from any application
Instantly create 100% industry-standard PDF files with security options that are fully compliant and compatible with all PDF viewers. Combine files and remove or replace pages with drag-and-drop ease.
Archive important emails as PDFs
Save Microsoft Outlook emails as PDF files along with any attachments and links.
Don't retype your documents
If you must work with PDF documents in other applications, don't waste valuable time recreating them – convert them. Complex layouts with columns, tables, and graphics are faithfully reproduced in Microsoft Word, Excel, PowerPoint, and Corel WordPerfect documents.
Utilize enterprise-level PDF security and rights management
Protect PDF files with secure 128-bit or 256-bit AES encryption and permission controls. Apply customized protection to PDF documents using Microsoft Active Directory or Microsoft Azure Rights Management Services.
Redact sensitive information
Advanced redaction capabilities remove confidential data for safe, secure document sharing.
Boost productivity with automated workflows
Automate and simplify document scanning, capture, conversion, and redaction workflows. Utilize Power PDF's watched folder capability to convert several Microsoft Office documents into PDF files automatically.
Connect directly with the document management system
Send or retrieve PDF files from NetDocuments, OpenText eDOCS, iManage Work, Livelink, OpenText Enterprise Connect, Worldox, EMC Documentum, Xerox DocuShare, Therefore, Office 365 and SharePoint Document Management Systems (DMS)
Newest Capabilities
Boosts document conversion accuracy through Kofax OCR version 21, the industry's most advanced scanning technology
More options for time-saving e-signature management through integrated Kofax SignDoc
Improved adherence to accessibility standards through accessible PDF output from Office
Expanded use of export add-in code to improve file consistency and accessibility compliance
New clean and modern user interface
Saved time through Bates Numbering application across a PDF Portfolio
Ready-to-go Published Connector SDK to build custom connectors
More OneDrive Connector options – allows direct cloud connections and supports multiple One Drive accounts
Technology and environment updates, including improved recognition of local languages
System Requirements
1.5 GHz or faster processor
Supported operating systems:

Windows 10; 32-bit and 64-bit editions
Windows 8.1; 32-bit and 64-bit editions
Windows 7 with Service Pack 1; 32-bit and 64-bit editions
Windows Server 2008 R2 with SP1, 2012 R2, 2016, 2019

Citrix Virtual Apps, Remote Desktop Service, Active Directory
1 GB of memory (RAM) or greater
1 GB of free hard disk space for application files.
Web access is needed for product registration, activation, product help, and obtaining live updates for the program.
Microsoft.NET Framework 4.8.  If it is not detected, it is installed with the product. Note: Performance and speed will be enhanced if your computer's processor, memory, and available disk space exceed minimum requirements.
KOFAX PDF Software Language Support
English, French, German, Dutch, Italian, Spanish, Portuguese, Japanese, Swedish, Danish, Norwegian,  Finnish,  Russian,  Polish, Turkish, Czech, Hungarian,  Simplified Chinese, Traditional Chinese, Korean
License key(s) will be delivered via email after purchase confirmation
License key(s) *  will be sent to your designated email ID in 1-2 business days 
Please do not hesitate to contact us if you encounter any issues with delivery
Issued License keys are subjected to a non-refundable policy
Explanatory notes
After you confirm the purchase of the product, we will process and send the license key(s) to your appointed email ID.  A license key is equivalent to the serial number of the product.
You will need to register the license key on KOFAX PRODUCT DOWNLOAD CENTER, as follows: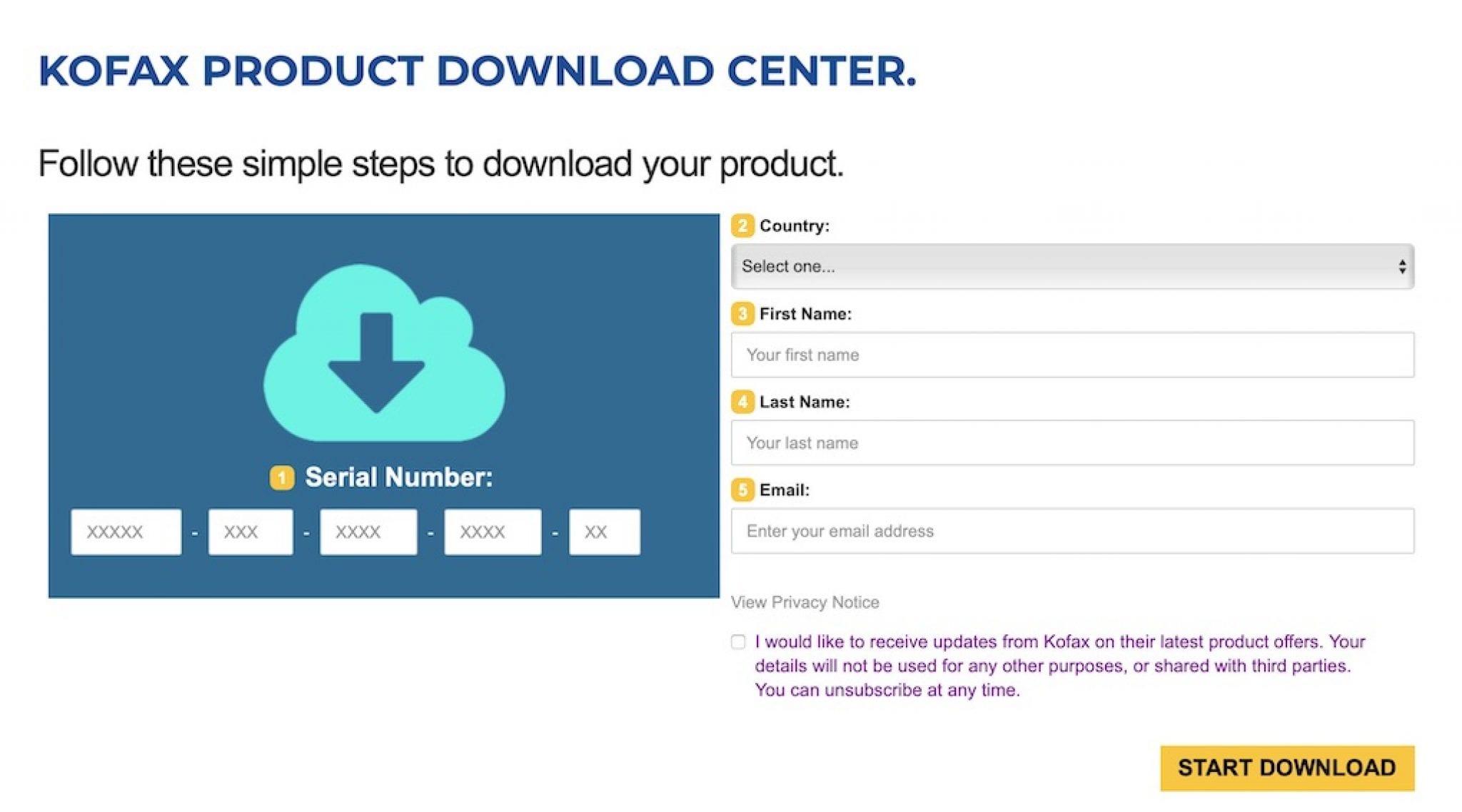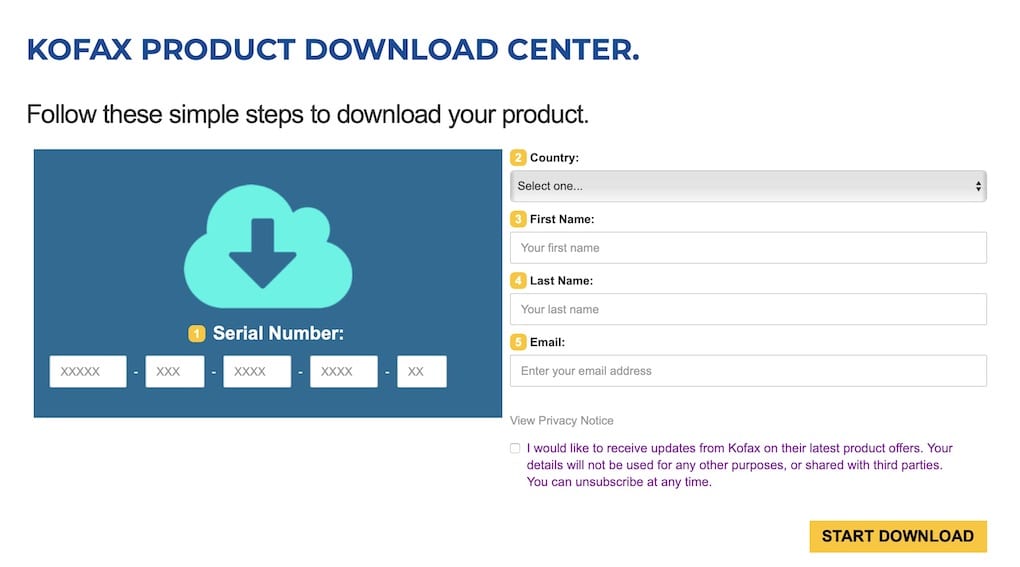 Fill in the required information on the form, and click Download.  The required installation file will be loaded to your computer or device.  Then follow the instructions to install the software on your system.  It is easy!  But do not hesitate to contact us if you face any issues with the download.

Buy Kofax Power PDF Advanced Version 4 For Windows – Electronic Download (ESD)